Accidents that can be avoided by using Road & Transport Safety Kit
Scenario 1: Uttar Pradesh: 18 dead, several injured as truck collides with parked bus in Barabanki
The double-decker private bus from Haryana was packed above capacity with migrant workers from Bihar who had been to Haryana and Punjab to find work, and were on their way back home
Eighteen migrant labourers from Bihar were killed in Barabanki district late Tuesday night after a truck rammed into their bus while they were resting by the Lucknow-Ayodhya highway in the Ram Sanehi Ghat area.
The double-decker private bus from Haryana was packed above capacity with migrant workers from Bihar who had been to Haryana and Punjab to find work, and were on their way back home.
According to survivors, the bus broke down around 8.30 pm and some labourers got off the overcrowded vehicle to rest near the vehicle as the weather was hot and humid,
"The accident took place around 11.30 pm," said Sanjay Mandal (28), who survived the accident but lost both his father Balram Mandal (55) and uncle Rajnath (40).
While 18 people succumbed to their injuries, 13 are undergoing treatment at Barabanki district hospital and the trauma centre of King George's Medical University (KGMU) in Lucknow. "A total of 11 patients were referred to Lucknow's KGMU while two more were admitted to Barabanki district hospital. The ones in Barabanki are fine now," said a police officer in Barabanki.
KGMU officials said of the 11 being treated at the facility, four were in serious condition. "We have 11 patients admitted and four of them are in serious condition. Among the four, one has a head injury, two have orthopaedic injuries, and another has an injured spine. The rest all have minor injuries," the hospital said in a statement.
The police on Wednesday afternoon said of the 18 people dead, 16 had been identified while the identities of the other two were being ascertained. Among the 16 identified weer Suresh Yadav (35) from Madhepura district of Bihar, and eight from Sitamarhi — Indal Mahto (25), Gagandev (35), Rajdev Mahto (60), Monu Sahni (30), Jagdish (40), Naresh (37), Shanishchar (50) and Mastram Mandal (60). The other victims are Sikandar Mukhiya (40) and Akhilesh Mukhiya (30) from Saharsa district, Jai Bahadur (40) from Sibhar district, Baijnathram (55), Balram Mandal (55) and Rajnath Mandal (40) from Supaul district, and Santosh Singh (30) and Bauwa (30) from Bihar's Araria district.
Additional Director General (Lucknow Zone) Satya Narain Sabat said the axle of the bus had got damaged.
Scenario 2: A horrific road accident in Tumkur, Karnataka, many died
Bengaluru: A big news has come from Pavagada in the Tumkur district of Karnataka. In fact, eight people died and more than 20 people, including students, were seriously injured in a bus accident. On the other hand, the police who reached the spot said that the investigation revealed that the bus carrying 60 passengers overturned after the driver lost control of the vehicle. According to information received in the case, police officials said that eight of the 20 injured have been admitted to the hospital in critical condition. Well, this isn't the first case. In fact, last week, there was also a road accident in Kalaburagi in the state.
Where a car hit a tree near Baluragi village. Yes, five people died during that time. At that time, the police had informed that those who lost their lives in the accident were identified as Babasaheb, Chhaya, Komal, Rani and Anav Bade. All the deceased were said to be residents of Amhadnagar in Maharashtra. At the same time, the police had said that the passengers were returning from Dattatreya temple in Gangpur. Earlier, four people were killed and injured in a road accident in Karnataka's capital Bengaluru. The incident took place near Poorvankara Apartment on Nice Road, in which four people died on the spot due to high speed and fog.
During this time, all the people were riding in the SUV car and the speed of the car was quite fast. At the same time, due to the fog, the path was not seen properly and due to this, it hit a container truck running in front of the car, also the car was hit by the bus from behind. Due to this, in the back and forth collision between the truck and the bus, the SUV car's wheels were blown away and four people in the car died on the spot.
Scenario 3: Bengaluru-Ernakulam KSRTC Volvo accident kills 19 in Tamil Nadu
Scenario 4: KSRTC's Volvo's major accident

Five people were killed, including three from Bangalore, and 14 others injured when a KSRTC Volvo-Airavat crashed into a timber-laden lorry parked by the
road at Udane on Bangalore-Mangalore NH 48 in the early hours of Monday.

The bus, on its way to Mangalore from Bangalore, rammed into the lorry while trying to avoid an oncoming truck. A log that entered the bus on impact caused the casualties.

The deceased are Satish Chandra, 55, a motor vehicle inspector from Yelahanka; Girisha, 33, from Madhavanagar; Santhosh, 33, from Viveknagar; Prabha Hegde, 50, from Puttur and Varaprasada, 27, from Vishakapatnam.

The bus was carrying 40 passengers. Transport minister R Ashok announced a compensation of Rs 2.5 lakh each to the dependents of the victims, Rs 15,000 of which will be paid immediately and the rest within a week. He said: "We use our best drivers on the Airavat as the emphasis is on accident-free journeys."

This is the second major accident involving a KSRTC-Airavat this year. The previous one was near Tirupati four months ago.
Scenario 5: Andhra Pradesh: Three killed and ten injured as two buses collides in Vizianagaram
Vizianagaram: In a ghastly accident occurred on morning of Monday at Vizianagaram, three persons were killed and ten others injured. As per the information, an RTC express rushing towards Visakhapatnam has hit an another bus coming in the opposite direction at Sunkari peta village.
At the same time, a lorry coming from back direction has hit the same bus. Two drivers of the both the busses and a passenger was killed on the spot and ten more are injured seriously.
The injured were rushed to MR hospital. Police rushed to the spot and undertaken rescue operations. However, complete details are yet to be known.
Scenario 6: Highway accident: 43 injured as bus rams into truck in Dera Bassi
Five of family seriously injured in the accident; truck driver had parked the vehicle on the highway after it developed snag

The Haryana Roadways bus that rammed into a truck parked on the Ambala-Chandigarh highway in Dera Bassi at 3am on Monday. 

Five members of a family headed towards Mata Vaishno Devi Shrine were seriously injured while 38 other passengers suffered minor injuries when a Haryana Roadways bus travelling from Gurugram to Chandigarh rammed into a truck parked on the highway at Dera Bassi in the wee hours of Monday.

"Of the 43 injured people, eight were taken to the civil hospital in Dera Bassi, from where five were referred to Government Medical College and Hospital in Sector 32, Chandigarh," said Narpinder Singh, police post in-charge, Mubarakpur.

The five include two minor twins, two men and one woman, all from the same family. Both the twins suffered head injuries. They all are stated to be out of danger. Meanwhile, rest of the passengers were administered first aid.

Singh said the accident took place at 3am. "The truck's engine broke down at night and the driver parked it on the side without any reflectors. The bus driver could not see it in the dark and rammed into it at high speed," he said.
Naresh Kumar, one of the injured passengers, said: "The bus was fully packed and most of us were sleeping. There was a sudden crash, leaving us injured. While police were late to arrive, locals arranged ambulances and the injured were shifted to hospitals."
8
The truck has been impounded and its driver, Mahesh Kumar, has been arrested after being booked under Section 283 (danger or obstruction in public way or line of navigation) of the Indian Penal Code (IPC).

20-year-old killed in another Dera Bassi accident

A 20-year-old boy was killed while his three friends suffered injuries in an accident on the Dera Bassi-Barwala road.

The deceased has been identified as Anam of Karnal district in Haryana. The four had come to Dera Bassi for some work and were heading towards Barwala when the accident took place around 11pm on Sunday.

According to witnesses, the victims' Maruti Swift rammed into an electricity pole after being hit by a Maruti Alto car coming from the wrong side. All four were rushed to the civil hospital in Dera Bassi , where Anam was declared brought dead. The other three were referred to Chandigarh, where the condition of one is stated to be critical while two were discharged after treatment.

A case under Sections 279 (rash driving) and 304A (causing death by negligence) has been registered against the unknown driver.
Scenario 7: Mega Car Pile Up on Delhi Agra Highway
Scenario 8: SETC Bus Driver Died On Road Accident, 9 Injured Due to Collision With Truck
State Express State Transport Corporation Driver Cum Conductor Sankaran Sir Died In An Accident happened at Melur in Madurai District. The accident occurred due to the broke down lorry parked in the road without any proper indications led to the gruesome accident.
Sankaran Sir was on the wheel during the accident due to the impact with the lorry loaded with goods, bus front part was completely damaged. The fatality rate of the accident was so high, Sankaran Sir died on the wheels.
The bus was packed with passengers and was back to Papanasam from Chennai during the accident. The bus was carrying 34 passengers when the accident occurred, in that 5 passengers are heavily injured and 4 passengers have an injury. 25 passengers were unhurt during the accident, 108 ambulances were rushed to the spot along with police and health officials taking control of the accident.
The major accidents in the past and present occur due to negligence in the side of break down vehicles in the road, the vehicle drivers or owners should take responsibility and warn the passing vehicles if a vehicle breaks down its moral responsibility to use warning symbols, parking lights, reflectors etc.
We are deeply grieved by the accident happened due to poor negligence on the part of a parked vehicle, there will be mechanical difficulties but averting an accident and safe lives of you and others should be the ultimate goal.
Scenario 9: COIMBATORE ACCIDENT RAISES UGLY QUESTIONS ABOUT ROAD SAFETY IN INDIA 

Death came instantly for most of the 19 men, women and children in the horrific head-on collision on a stretch of National Highway (NH544) along the Avinashi-Salem bypass, about 40 km from Coimbatore. A Kerala State Road Transport Corporation (KSRTC) scheduled service between Bengaluru and Ernakulam collided head-on with a container truck headed opposite way in the wee hours of 20 Feb, 2020.
The KSRTC bus was carrying over 40 passengers (official numbers ranged from 42 to 48, hours after the accident) when it was reportedly rammed by the truck that jumped the median. As per reports, 19 are dead and over 25 are injured, some seriously. That's a 50% casualty rate – almost half the bus is dead. This is evident in images shared by eyewitnesses where the right side of the bus is seen completely mangled.
Maybe we should face some facts. India's record at road safety is inconsistent with its global aspirations.
As per a 2019 report from the World Resources Institute, India has the worst road safety record in the world. The report goes on to state that 'India accounts for about 2% of motor vehicles globally, yet it's responsible for more than 11% of road traffic deaths.'  This is a disturbing if not entirely surprising statistic. I have written about certain attitudes that feed into this deathwish of ours (read it here & here).
The statistics can be debated till the coffins come home. One thing is certain: We are a nation that takes road safety lightly
Accidents like the recent one find just a corner in leading news media while policymakers are busy putting their mouth where their brains & money should be. Let me illustrate with personal example.
As a resident of Bengaluru and native of Kerala, I am a frequent traveller on the route where families lost their loved ones in the wee hours of Feb 20, 2020. I have traveled this route on many wheels – from air conditioned, multi-axle 'sleep like a baby' Airavat Volvos of KSRTC (K for Karnataka in this case) to Rajahamsa Executive Non-AC services, and my own Volkswagen.
What stands out is the total negligence to working conditions drivers have to endure just to keep a job. Coming from the well-regulated pilot community that sanctifies 'flight & duty time limitations' (FDTL) and 'pilot fatigue', I find our utter disregard for Indian truckers & bus drivers' human factors (HFACS) totally inconsistent with safety.
The KSRTC bus stand in central Palakkad – like the Shanti Nagar Bus Depot of its eponymous cousin from Bengaluru – is an abject example of how little we care. KSRTC crew who have finished their overnight duty sleep under parked Volvo buses enduring high-decibel noise, sapping heat & humidity, blood-sucking mosquitoes and an indifferent local population, only to repeat this day after every single day.
My parents live a furlong away from a madhouse called KSRTC Bus Depot in Palakkad, Kerala. During frequent road trips (well planned, catering for FDTL, sleep & 'layovers'), I often ponder over the dismal state of driver safety in services that ferry highly-educated folks like us to our holiday destinations. Drivers drive through the night daily over stretches that provide 'facilities', but no rest, recreation or privacy.
On the Bengaluru-Palakkad-Kochi stretch, like any other roadway in India, "swalpa adjust maadi" (please adjust) rules supreme. Often, crew and passengers argue; the rules of the game are loaded in favour of convenience, not safety. Well-connected passengers just want to get to their destination. They are barely interested in calling out a failing system even if they see and survive one. They ride with the misplaced belief that they bought "safety" with the bus ticket.
Hardly the case, as accident statistics will reveal. All of us have a little blood on hand today for outsourcing discipline to those who prioritize 'moolah' over safety.
Imagine driving through the night and having to spend layovers battling poor facilities, stinking dysfunctional toilets, sending updates to company and family, filling log sheets, responding to passenger calls – all the while multiplexing as driver and conductor, or both. This is the life of "cabin crew" from KSRTC or any established private sector operator in road transportation.
Spare a thought for the unorganized sector – one where truckers & drivers have no choice but to "lump it". They "water the grass", eat from roadside dhabas, sleep in truck lay-byes , and – if that's not enough – reel under new age electronic distractions, with no help from a community that simply enables their exploitation.
Is it any surprise an accident happened? Now who is to blame? "If you survive, you will be arrested; If you don't, you will be blamed"
That is the mantra which rules this sector. Time to question why.
The Coimbatore accident should make us all sit up, acknowledge the gaps and push for reforms in "road safety". Think about this before you plan the next road trip:
How much and under what conditions has the average Indian driver slept and rested, if at all?
Do drivers and conductors / cleaners share duties at the wheel? Are they supposed to do this? Is it allowed by law or are they pushed into doing this by exploitative agencies?
What enroute facilities are available to transportation crew to rest & recuperate during intervening halts / layovers?
What systems are in place to monitor "fatigue" level of transportation crew? Are such systems implemented in letter & spirit?
After every accident, Indian police "arrest" the driver (if he or she doesn't abscond, out of fear for law or lynching). How does this improve a system impervious to HFACS for decades? Is there an alternative model that can be mandated?
Are our vehicles and highways designed to withstand the cruel reality of road travel in India? If not, why do we continue to charge a heavy "toll" even as body bags pile-up each day? Does the money trail from "toll collection" lead to a logical enhancement in transportation safety?
How come a few good men are left fighting the shameful state of affairs with personal initiative in the wake of every accident? Who should answer for the blood on our hands we all wash so conveniently in fleeting moments of public outrage after such horrific accidents?
Even after bearing the ignominy of being the worst in road safety, why is it that we do not have a central agency like the US National Transportation Safety Board (NTSB) to investigate and implement lessons learnt from across the spectrum of transportation?
You can add many more points to the above list. In the 21st Century, how come we have gotten used to such bloody statistics? Isn't this disconcerting?
If the drivers aren't safe, how can you be?
I am extremely sorry for those who have lost loved ones in avoidable accidents. The latest one that claimed 19 lives on 20th Feb 2020 near Coimbatore should wake us up. Shame on us if we cannot reform.
Scenario 10: 2 dead, 4 injured after container rams into bus on Mumbai-Ahmedabad highway
Two persons died while four were injured  after a fully-loaded container rammed into a stationary luxury bus near Charoti, Dahanu on the Mumbai-Ahmedabad highway around 7am on Tuesday. According to API Jayprakash Gute of Kasa police station, the bus was coming from Amreli in Gujarat and was proceeding towards Khetwadi in Mumbai, when the front tyre of the bus developed a puncture near Charoti, and driver parked the bus on the side to replace the tyre.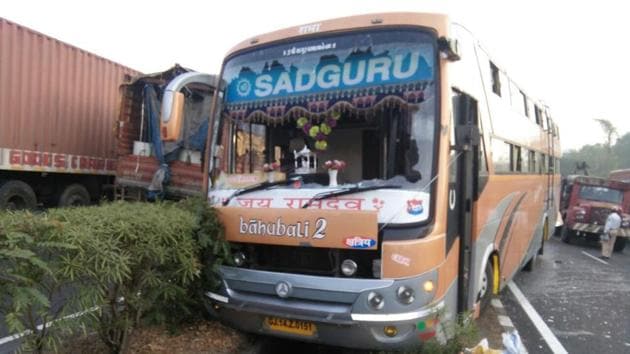 The bus was parked on the side of the road owing to a punctured tyre when the container rammed into it.
Two persons died while four were injured after a fully-loaded container rammed into a stationary luxury bus near Charoti, Dahanu on the Mumbai-Ahmedabad highway around 7am on Tuesday.
According to API Jayprakash Gute of Kasa police station, the bus was coming from Amreli in Gujarat and was proceeding towards Khetwadi in Mumbai, when the front tyre of the bus developed a puncture near Charoti, and driver parked the bus on the side to replace the tyre. Suddenly, the container, driven by Ramesh Bariya, 45, rammed into the bus from the rear end.
"As a result, Bariya died and Madhuben Solanki, 65, a bus passenger who was sitting in the rear section of the bus died on the spot, while four other passengers sustained injuries and were admitted to the government hospital. One of the injured is being shifted to a Mumbai hospital," said Gute.
"We are in the process of registering a First Information Report (FIR) under Section 304(a) of the Indian Penal Code (IPC) and also under the Motor Vehicles Act. We are contacting the travel agency to get a list of the passengers onboard the bus so as to notify their relatives," said Gute.
Vehicular traffic towards Mumbai were hit owing to the mishap, as the traffic police were clearing the debris from the accident.